Why AltSignals' Presale Could Be The Next Big AI Crypto Token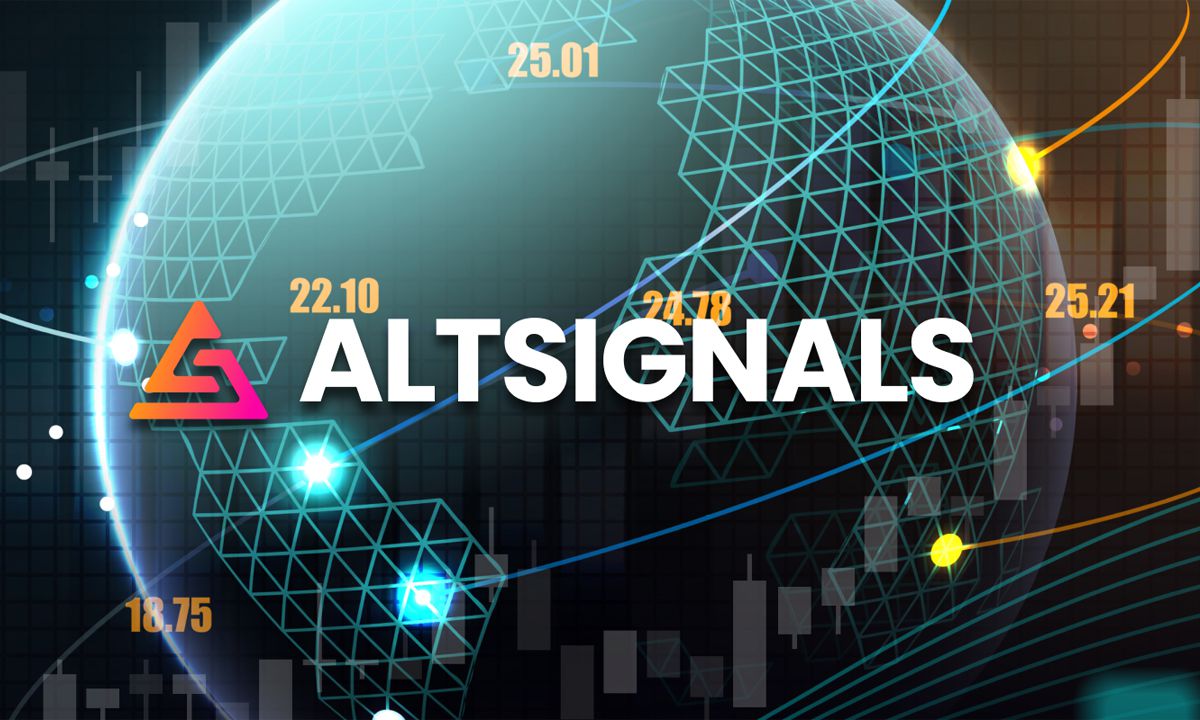 Crypto experts see artificial intelligence (AI) as the next big thing in the blockchain world. AI crypto projects that harness cutting-edge AI solutions alongside blockchain are seeing a massive surge in popularity among investors in the first half of 2023.
These companies seek to stay ahead of the curve and make the most of this exciting new potential crypto growth industry.
Established trading signals platform AltSignals has been quick to see the potential of this growth market and recently announced the presale of its native ASI token to complement the development and impending release of its exciting, new AI-powered trading stack, ActualizeAI.
ASI is ready to disrupt crypto markets
After launching in 2017, AltSignals has steadily grown to become one of the world's largest providers of trading signals across several markets. The company is taking the next steps by turbocharging its market-leading AltAlgo™ indicator tool with a brand new, AI-powered trading stack called ActualizeAI.
The aim is to bring the highly accurate and successful outputs from AltAlgo™, which provided 10x returns on Binance Futures trades in 19 out of 32 months, to a brand new level by using AI technology to help traders make more profitable trading decisions.
The platform recently launched the presale of its brand-new ASI token to support the development of ActualizeAI. Early signs are that it could become the next significant AI crypto token on the market. Currently at stage 1 of its presale event, AltSignals has already raised $739k and is the token now available at just $0.015 per token.
What is AltSignals?
AltSignals is one of the biggest and most accurate trading signals providers, serving excellent outputs to its growing community of more than 52,000. In the last five years, it has provided its members with the tools to understand how to trade, enabling them to make well-informed and profitable decisions.
Until now, the AltAlgo™ tool has provided real-time trading signals on various markets, including daily crypto exchanges, CFD, Forex, Binance Futures, and traditional share trading.
To improve the frequency and accuracy of its trading signals from the current average of 64% to a goal of an unprecedented 80%, AltSignals is developing its cutting-edge ActualizeAI system, which will harness the best of a variety of different features to take its trading signals to the next level.
For example, ActualizeAI will use predictive modeling to predict future trends based on historical data, while machine learning will work in the background to make instantaneous improvements and apply rules-based logic to generate signals.
NLP (natural language processing) will improve the system's ability to learn and combine with sentiment analysis to improve the volume and accuracy of trading signals provided. As AI technology improves, the accuracy of the trading signals provided by AltSignals will improve as well.
Additionally, reinforcement learning will be applied to balance the risk/reward ratio, allowing users access to optimal buy and sell prices for their holdings.
Best of all, ActualizeAI scours markets continuously 24/7 to bring the best, most up-to-date intel to users while continuing to refine the quality and accuracy of its trading signals as more data becomes available and is ingested by the algorithms. This exciting new capability illustrates why ASI is considered the next significant AI crypto token.
How does ASI work?
The ASI token will power the entire AltSignals ecosystem, including the pioneering ActualizeAI trading stack. Token holders with more than 50,000 coins automatically gain lifetime access to ActualizeAI outputs, while those with a lesser holding gain access for a year.
The ASI token not only helps users to negotiate in volatile crypto markets but also provides its holders with extensive utility and full governance voting rights on community-led proposals to determine the platform's future direction.
In addition, ASI coin holders can access several special features via the VIP AI Members Club. This online trading community will allow members to unlock access to the most exciting and exclusive early private and public presale events and enter into potentially lucrative trading tournaments. 
Those who belong to the AI Members Club will also be invited to beta test new automated features and products and will gain exclusive early access when they are rolled out, giving them a head start in making profitable decisions.
How high can ASI go?
AltSignals is in a good place, having already built up an outstanding reputation, illustrated by its 4.9/5 rating on Trustpilot since 2017. It is a highly trusted trading signals provider and with a rapidly growing community behind it, the ASI token has the advantage of an established foundation to support its launch.
As investors try to find the next big AI crypto project, ActualizeAI looks set to potentially catapult AltSignals and ASI into the big time. The rich potential of the ActualizeAI trading stack could make AltSignals a leading pioneer in the blockchain/AI space.
The benefits of using AI technology to help investors and traders maximize their profitability appear apparent to many, hence the early popularity of the ASI presale event.
Power up your trading investments with ASI
AltSignals is possibly one of the best new crypto investment opportunities on the market today. Its compelling value proposition and early adoption of cutting-edge AI technologies make it a brilliant example of a platform that can provide a robust space for AI to grow.
In addition to providing experienced traders with the tools to make well-informed decisions, newbies can also use AltSignals' excellent trading signals to take their first steps into the trading world.
As a result, ASI's place as a potentially exciting new AI crypto token looks assured as 2023 unfolds.
You can participate in the ASI presale here.
Disclaimer
This article is sponsored content and does not represent the views or opinions of BeInCrypto. While we adhere to the Trust Project guidelines for unbiased and transparent reporting, this content is created by a third party and is intended for promotional purposes. Readers are advised to verify information independently and consult with a professional before making decisions based on this sponsored content.