Rollbit Price Prediction as RLB Becomes Best Performing Coin of the Week – Are Whales Buying?
As the crypto market continues its dance of unpredictability, one coin is catching significant attention: Rollbit's RLB token. On 27th August, the RLB/USD trading pair displayed an encouraging uptick, registering gains of nearly 0.10%. 
This marks the coin's third bullish performance in successive sessions, having amassed an impressive nearly 35% increase over the previous two days. These burgeoning figures hint at further potential ascension for the coin.
Notably, Cryptolaxy's recent report underscores Rollbit's meteoric rise, ranking the RLB token third on today's list of top weekly gainers, boasting a 33% gain.
This notable achievement sees RLB nestled among other high performers like TLOS and OMI. Many are asking whether the crypto whales are now turning their attention to Rollbit.
Rollbit offers a diverse suite of services, including a casino, sportsbook, NFT gambling, and leveraged trading. 
Rollbit's RLB Token: A Pioneering Force in the Casino Lottery
The Rollbit (RLB) plays an integral role in the Rollbit lottery. Instead of being introduced through an ICO, it is distributed via airdrops to Rollbit.com users. 
RLB serves as entry tickets, permitting holders to vie for a portion of the casino's profits by staking their tokens. The allure of the lottery propels RLB demand, with rewards derived from a 20% daily profit allocation.
Even before its token launch, Rollbit was already profitable, granting RLB immediate utility within the lottery. 
With a fixed supply of 5 billion, staked RLB tokens grant access to the lottery, with 50% of the 0.20% fee being burnt each round. 
This process diminishes the circulating supply, fostering value growth. The remaining fees are allocated for Rollbit's NFTs. 
As staking numbers surge, so does the burn rate, amplifying the token's scarcity and boosting RLB's price.
Rollbit's Strategic Revenue Allocation and Buy & Burn Mechanism
A significant catalyst for the RLB rally is the network's recent buy-and-burn mechanism. Roughly 20 days ago, Lucky, the co-founder of Rollbit, heralded this initiative on his Twitter account.
This update involves allocating revenues from the Casino (10%), Sportsbook (20%), and 1000x Futures (30%) for the RLB token buy-and-burn process. 
According to Lucky, given Rollbit's track record of success across various market conditions, its hybrid offerings consistently generate revenue.
The integration of the Buy and burn mechanism with this successful business model is set to further enhance RLB's value proposition for its holders. Lucky believes that this development represents a pivotal moment in Rollbit's journey.
Following the launch of this buy-and-burn mechanism, market participants have shown increased interest in acquiring Rollbit tokens. 
In the past 24 hours alone, the network has burned approximately 1,323,185 RLB tokens. The act of burning tokens often appeals to new investors, as it signifies a reduction in supply, thereby augmenting the token's scarcity.
Wall Street Memes – The Alternative Coin Worth Considering
Cryptocurrency enthusiasts are exploring diverse investment prospects in the digital asset realm, with WSM emerging as a notable contender. The upcoming $WSM token, drawing its inspiration from meme culture, has stirred considerable excitement among potential investors.
Originating from Wall Street Memes, a well-known online platform frequented by these investors, this coin has sparked notable intrigue.
The initial offering of this crypto endeavor by Wall Street Memes kicked off on May 26, 2023, through their dedicated platform at wallstmemes.com.
During its inaugural phase of the thirty-stage rollout, the WSM token was attractively priced at $0.025.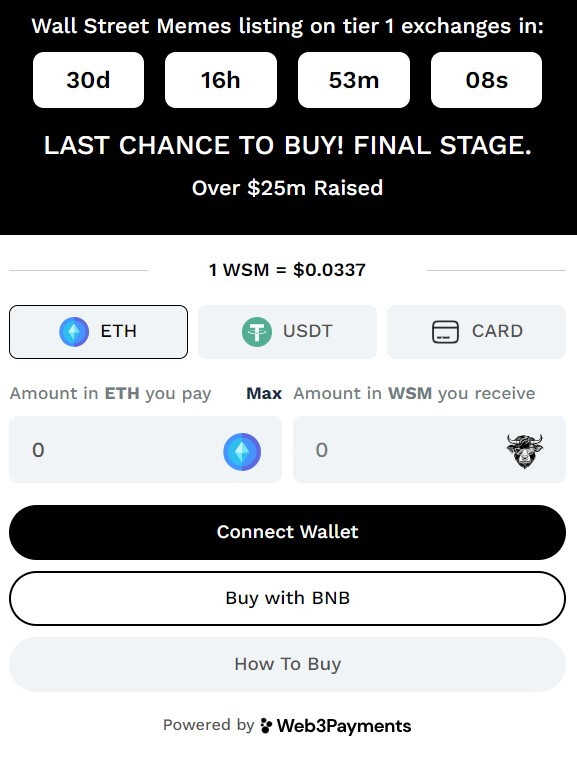 This Wall Street Memes presale quickly garnered momentum, amassing over $300,000 on its debut day and culminating in a whopping $25 million in investments.
Currently, these WSM tokens are available at a presale rate of $0.0337.
Seize this golden opportunity, promising impressive potential for appreciation. Dive into the Wall Street Memes project and be at the forefront of this exhilarating financial journey.
Buy $WSM Here
Disclaimer: Crypto is a high-risk asset class. This article is provided for informational purposes and does not constitute investment advice. You could lose all of your capital.