Illuvium Overworld Blends Open World Adventure With Pokémon-Style Battling—And It's Beautiful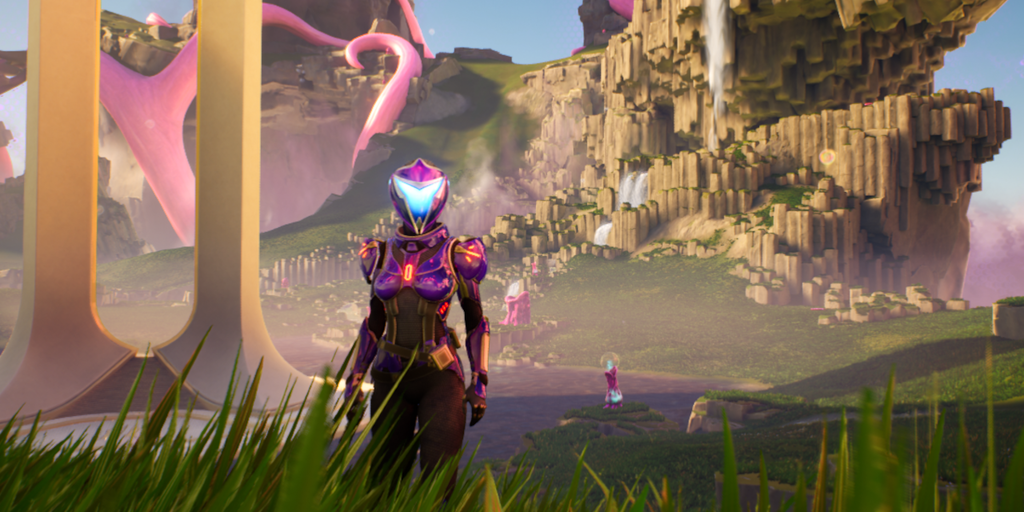 This story comes from GG. Your Web3 Gaming Power-Up
Discover GG
Illuvium is an upcoming sci-fi fantasy video game franchise that will span multiple game experiences, and the developers recently released a second private beta for the Illuvium Overworld open-world adventure mode. 
Illuvium Overworld combines elements of third-person 3D world exploration and card-based "auto battler" arena gameplay within a single-player, role-playing approach, as you navigate through the vibrant, colorful world with a robot drone called M0z4rt that can extract materials. Your character also comes with a visor that can highlight harvestable plants and objects nearby.
The movement in this game's open world is arguably the best part of the experience. Your boots allow for "super jump" moves and double and triple jumps, and let you literally fly through the air.
The graphics and game environments are also incredibly detailed and resemble a AAA title when played on a PC at max settings with a Nvidia GeForce RTX 3090 GPU. The user interface or in-game HUD is also minimalistic, clean, and well-designed.
While Decrypt tested the private beta as a level zero character in a limited free-to-play mode without NFTs or crypto elements, it was still a very enjoyable experience and felt like the beginnings of a beautiful world.
The goal of Illuvium Overworld is to explore the map, harvest and forge materials, and catch Illuvials, which are the game's version of Pokémon-like characters.
Exploring and harvesting is a relaxing experience that feels fun and exciting at first, but may not entertain players for long once they've fully explored the world. That said, exploration is incredibly fun and will take you many, many hours to fully complete.
As you explore, you can also track Illuvials. Illuvials can be captured via floating, humming bubbles that appear randomly in the world. Once shot at and interacted with, players will be teleported to a virtual battle arena where they will have to play against AI opponents in a card-based auto battler arena mode.
Each Illuvial exists as a collectible card as well as an in-game character, and possesses unique stats and elemental abilities. As in Pokémon, water-type creatures do well against fire types but are weak against earth types, and so on, so players will need to take the time to become familiar with the range of different Illuvials and their abilities. 
Illuvium is still in development on Immutable X, but has already released various NFTs. So far, the official OpenSea collection on Ethereum includes a few different cosmetic skin options for M0z4rt as well as "holos," emotes, and badges.
Illuvium's ERC-20 token ILV has existed since 2021 and remains in the top 150 cryptocurrencies by market cap, according to CoinGecko data. However, the token is down 84% in the past year and currently sits at a price of roughly $46. ILV is used to help manage and run Illuvium's DAO, a decentralized governance community that participates in the game development process, which calls itself the "Illuvinati."
This week, the Illuvium team has already announced plans for its next playtest, sharing on Twitter that it will launch a first season alpha test for its building strategy game, Illuvium Zero, later this month.
Stay on top of crypto news, get daily updates in your inbox.