Bitcoin Price Holds At $26,400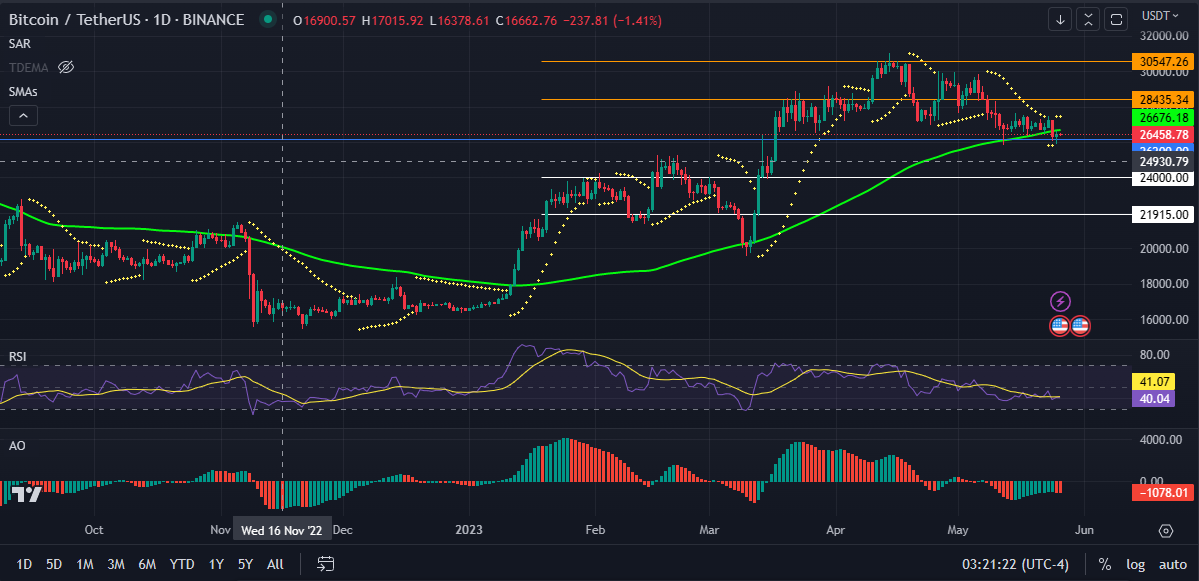 Join Our Telegram channel to stay up to date on breaking news coverage
Bitcoin (BTC) price remains range bound, moving lower as it eases towards the critical support at $26,200. The overall outlook is bearish as the entire crypto ecosystem continues to suffer the brunt of a harsh market. Accordingly, the price of other cryptocurrencies continues to slump in all this bearishness to the extent of reaching miners. To top it all up, concerns surrounding the US debt ceiling also weigh down on the financial industry at large, as the stock market shows.
Nevertheless, concerns about Bitcoin price recovery continue to spread in the crypto market, with some analysts constantly revising their targets while others remain unmoved.
Bitcoin Price Drops Amid Booming TradFi
Bitcoin price within the $26,000 zone has pushed miners towards hedging their reserves, hoping to spare themselves more losses or, at the very least, continue powering their systems. Over the last 24 hours, these miners have sold close to 1,000 BTC worth approximately $27 million.
As it stands, the United States debt ceiling headlines as one of the main reasons obstructing the crypto market's recovery in terms of prices. Although the Republicans, alongside President Joe Biden, keep talking and finding common ground, Fear, Uncertainty, and Doubt (FUD) of a default holds the market hostage.
Despite the default, fears showed signs of dissipation on May 25, evidenced by a spike in the stock market. The NASDAQ 100 recorded a 2.46% surge to record a 13-month high of 13,938 in what appeared to be resilience despite the adverse macroeconomic conditions. NVIDIA (NVDA) takes credit for this unexpected uptick as its stock prices soared by almost 25% to trade at $379.80.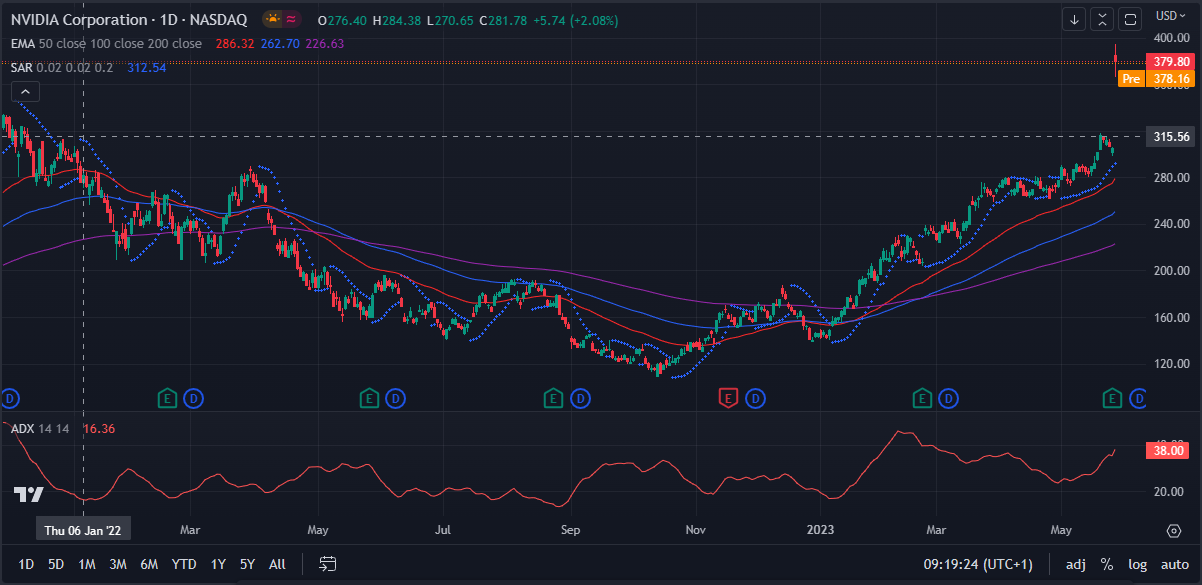 During the intra-day trading session, NVIDIA added almost $200 billion to its market capitalization, raising concerns across the board. In other words, the total gain by NVDA on May 25 was four-times that of the United States Treasury's cash reserves of almost $49 billion.
Cognizant of such a remarkable rise, Crypto Twitter is now concerned about why Bitcoin failed to collect liquidity and benefit from such a surge.
Analyst CrediBULL Crypto has explained this, saying:
The liquidity exists in the market as observed in the case of NVDA. It would not be difficult for Bitcoin to find it either, considering the crypto sector is still small in comparison.
Institutional Investors And Whales Key Drivers Of Crypto Market
Nevertheless, institutional investors and whales still need to provide a catalyst for the crypto market. This is because retail investors continue in their FUD, withdrawing at the first sign of distress. Moreover, BTC whales have been presented as a driving force for a bull cycle for a long time now. Their influence was manifest in the 2017 BTC cycle and when the same whales catapulted the king crypto's market value to the cycle top at the time.
Now, however, whale activity is at a two and half year low. A rise in whale activity could prove value-adding for Bitcoin price.

Is 100 SMA Bitcoin Price's Achilles Heel?
At the time of writing, the Bitcoin price is $26,458, recording a daily rise of almost 1%. However, BTC faces resistance at the 100-day Simple Moving Average (SMA) at $26,676 (green band on the daily chart below). Resistance from this hurdle appears to cap the flagship crypto's upside potential, adding to the headwinds that may facilitate a downtrend.
An increase in seller momentum could see the Bitcoin price drop below the critical support at $26,200. Such a move would open the drains for further losses, potentially to the $24,000 support level. In the worst case, Bitcoin price could revisit the March 13 lows around $21,915. This would be in line with Rekt Capital's predictions.
"Where will the liquidity come from to pump #Bitcoin like this?" $NVDA marketcap is ~1T.

The entire marketcap of the crypto space as a WHOLE is 1.1T.

Global equities? 100T.

Where will the liquidity come from?Probs the same place it came from for $NVDA 😂

Reality is, this… https://t.co/0gaXOQIvBG

— CrediBULL Crypto (@CredibleCrypto) May 25, 2023
Notably, the $21,000 range is a very reasonable assumption considering the current lack of momentum in the market. The bearish outlook also draws support from the Parabolic SAR after it flipped above Bitcoin price on May 24. Also adding credence to the bearish thesis is the position of the Relative Strength Index (RSI) and Awesome Oscillators (AO) below the midline, indicating bears are in control.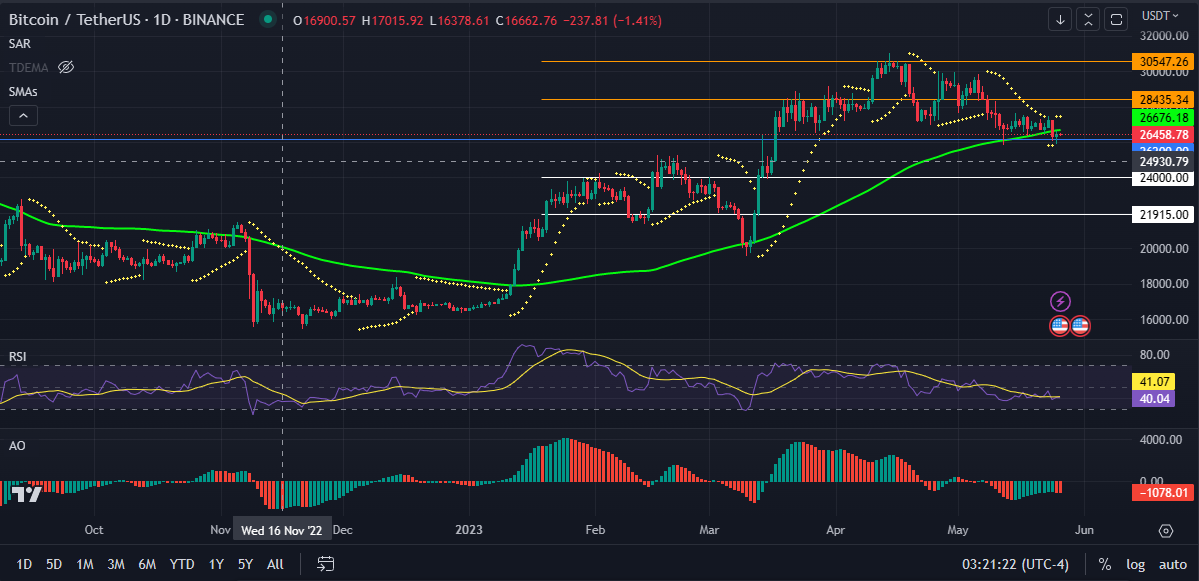 To the naked eye, there is a lack of bullish participation in the BTC market. However, a closer look at the RSI shows that it has deflected from its downward move and was about to cross above the signal line (yellow band). This is often interpreted as a bullish signal, indicating a call to buy. Traders heeding this call could fuel an uptrend.
With sufficient buyer momentum, Bitcoin price could overcome the 100-day SMA, extending a neck higher to the $28,435 resistance level. In a highly bullish case, BTC could reach $30,547 by June. Such a move would constitute a 15% ascension.
BTC Alternative
While Bitcoin price fights to overcome the Achilles heel, consider AI, the ticker for the AiDoge ecosystem boasting $14.37 million in presale token sales. With barely four days to close the presale, now is the best time to buy AI at early-entrant rates.
📣 Attention #AiDogeArmy! 📣

OVER $14.3 MILLION RAISED SO FAR! 🚀

Don't miss the last stage of our #Presale! 🤯🔥

Hurry and get your $AI before it's too late! ⏰👉 https://t.co/5j5tt4smcs#MemeCoin #Crypto $PEPE $FLOKI $DOGE $BTC pic.twitter.com/kfS82hAKdC

— aidogecrypto (@aidogecrypto) May 26, 2023
AiDoge is a sensational new artificial intelligence (AI)-powered meme generating and sharing platform riding on the FOMO wave for the next big meme coin to explode rages. The platform provides users with an AI-driven meme generation experience, which adapts to the agile, fast-paced, and dynamic crypto world. It leverages advanced AI technology to create relevant memes based on user-provided text prompts.
The main aspects include the AI-powered meme generator, text-based prompts, and $AI tokens for purchasing credits. The generator employs cutting-edge AI algorithms to create contextually relevant memes. These have been tested on a wide range of meme datasets and crypto news, ensuring high-quality, up-to-date memes.
Courtesy of the AiDoge ecosystem, users can stake $AI tokens and earn daily credit rewards while accessing platform features. Staking is crucial for long-term engagement and platform stability.
It boasts a public wall presented as a dynamic space within the AiDoge ecosystem. Here, users can view and share AI-generated memes. Among the features of the wall include filters and sorting options. These allow users to browse memes with certain criteria such as popularity, age, or specific themes.
An excerpt from the website reads:
We offer an innovative meme generation solution, leveraging advanced AI technology, user-friendly prompts, and a token-based credit system to revolutionize meme creation and cultivate a thriving crypto community.
Visit AiDoge here
Also Read:
Bitcoin Price Falls To $26,300 – When Will The Breakout Come?
Bitcoin's Struggle Below $26.5K Persists -Evaluating the Debt Ceiling Implications and Impact of FOMC Minutes
Bitcoin Price Prediction for Today, May 25: BTC Drops to $25.8K after It Crosses the Narrow Range
Top Crypto Gainers Today, May 25 – Kava, RNDR, AiDoge, Launchpad, yPredict, DLANCE, MATIC, ECOTERRA, HT
com Presale: Next Crypto to Explode? Nearly $14m Raised!
AiDoge Presale Selling Fast – Set To Explode At Launch
AiDoge – New Meme to Earn Crypto

Earn Crypto For Internet Memes
First Presale Stage Open Now, CertiK Audited
Generate Memes with AI Text Prompts
Staking Rewards, Voting, Creator Benefits

Join Our Telegram channel to stay up to date on breaking news coverage